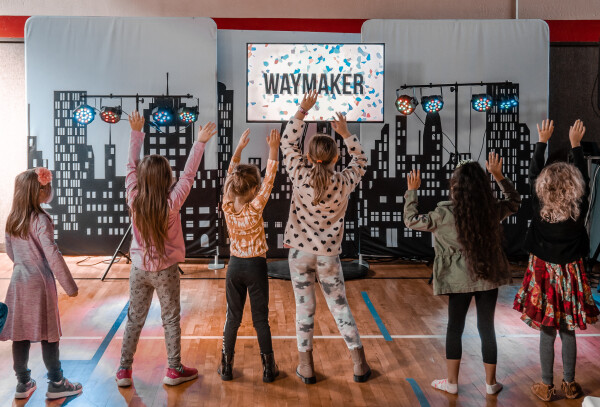 At Cove Kids, we know the world can be an uncertain place filled with distractions and noise. What's really important can sometimes get lost along the way. In order to make wiser choices, grow healthy relationships, and build up their faith, kids need a place to feel safe, seen, and loved.
The problem is, life can pull kids in a thousand different directions, which makes it hard for them to sift through the distractions and find what truly matters. This can leave them feeling anxious, fearful, and alone.
We know what it's like to feel invisible, overwhelmed, and hesitant about asking for help. But we also know that when kids have a place where they feel safe and accepted, they are able to find confidence in who Jesus has created them to be, allowing them to share the hope they have found with others to impact the world in profound ways.
Our Cove Kids team is here for you, to walk through this season together, and you're not alone. We want our Cove Kids to know they are loved, they are safe, and they have what they need to thrive in our ever-changing world.
Keep reading to find out more about Cove Kids, or come visit us this weekend so that your kids can move from feeling hesitant and fearful to knowing they are loved, seen, and can make a difference in this world.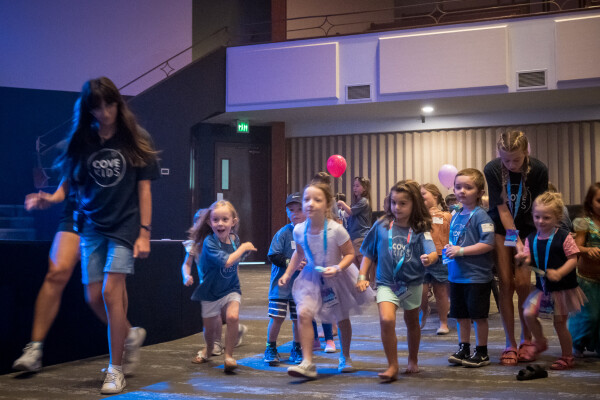 Our Cove Kids program is available at both our 9AM and 11AM Sunday services. (Full church service information available HERE)

Here's how you can help keep all our kids safe and healthy!
Cove Kid Snacks

To keep our space as clean as sanitary as possible, we are not currently offering snacks during our services. We have a volunteer on duty to safely pour water into disposable cups for our kids if they get thirsty.


Jacket & Toy Policy

To keep our space as clean and sanitary as possible, we ask that parents hold onto any extra items such as jackets, hair clips, or toys brought from home. Thank you!


Classroom Updates

Birth-Pre-K: Kids in this age group will check-in at the Gym and will then go over to our Nursery & Pre-K classrooms are located in the Main Building. We have classrooms available at both our 9AM and 11AM services on Sundays.

Kindergarten-5th grade: Kids in this age group will check-in and have their service at the Gym. We have clear signage for traffic flow for both Check-in and Pick-up of your children.


Cove Kids Sick Child Policy

Parents, thank you in advance for partnering with us in protecting all of the kids that attend Cove Kids services. To help support the health and well-being of our community, we ask that you please do not check in a child who currently or within the last 24 hours has had one or more of the following symptoms:
Fever
Colored mucus from the nose
Productive cough
Skin infection
Unexplained rash
Unexplained diarrhea
Pink eye
Nausea or vomiting
In the Classroom we...

Sanitize – The Cove Kid ministry ensures a thorough cleaning and disinfecting of frequently touched surfaces before, during, and after every service.


Your First Visit
Here's what to expect when visiting Cove Kids for the first time.

First, find the area marked Cove Kids Check-in located at the Gym entrance. There we will meet your family, check your child into our system, and then one of our volunteers will direct you and your child to their age-appropriate room.

Upon checking in for the first time, we will ask for the following personal information
(NOTE: We value your privacy and will not share this information with anyone):
Parent/guardian names
Child's name
Child's birthdate
Home address
Phone number
Email
Any special instructions (allergies, special needs) for your children
How Check-In Works
Before service: You can check in your kid with one of our volunteers at the entrance to Cove Kids, located across the breezeway from the main entrance of the church in the gym. After checking your child in, you and your child will be given matching name tags that are exclusive to your family and your visit. Your child will need to wear the name tag portion while you hold on to the matching tag.

After service: After the service is complete, you will return to your child's room and show your tag in order for your child to be released back to you.

During service: In the event we need to contact you during the service, you will receive a text message alerting you and/or your child's identification code will appear on the screen. We ask that you exit the auditorium at that time and return to your child's classroom.
Parent Viewing Rooms
Our parent viewing rooms all have a live-stream from our auditorium so you don't miss a moment while caring for your small children.

Family Room: If you'd like to keep your small child with you during service, but they'd like to move around and play, this room is open during every service. This room is located at the end of our lobby, past the Cove Connect area, in Room #39.

Nursing Room: For moms who would prefer a quieter or more private place to care for their infants. This room is located between our Nursery & Toddler rooms, through Room #13.
Additional resources
Got questions?
If you have further questions concerning your Cove Kids experience or visiting Cove Church with children, simply click the button below and get in touch with us!
Our world can feel overwhelming, scary, and discouraging for kids. At Cove Kids, we provide a place where every child is known, loved, and encouraged so that they can feel confident and hopeful for the journey ahead.